A lire sur: http://searchcio.techtarget.com/news/2240211485/For-senior-IT-job-satisfaction-optimism-tied-to-innovation-and-growth
Published: 19 Dec 2013
For senior IT executives, the view from the top was a little brighter in 2013. Results from this year's TechTarget
IT Salary and Career Survey
indicated that as the U.S. emerges from
the Great Recession
, IT leaders are feeling positive about their jobs and also detect a sense of optimism within the organizations they serve. And while the sunny outlook is helped along by stable and surging salaries, as
documented by the survey results
, money isn't all that is making the glass appear half full.
Our drive for innovation keeps everyone motivated, challenged and engaged at all times.

Daniel Salama, CIO, MCNA Dental
One reason for the optimism? Company business is picking up for many of the senior IT execs in our survey, and that's encouraging them to stick around. The survey found that 53% of the 464 senior IT leader respondents aspire to stay with their current company for the next three to five years. Among that group, 23% would like to move up in the company, 14% hope to move up in the IT organization, and 14% would be happy to stay in their current role.
In all, 68% expressed happiness with their job, 23% claimed they were satisfied with their current position and company, and 45% said they'd be open to new opportunities but weren't actively looking. Senior IT executives were defined as CIOs, chief technology officers (CTOs), executive vice presidents and directors of IT/MIS/IS.
Daniel Salama, CIO for Fort Lauderdale, Fla.-based MCNA Dental, counts himself among that 53% of senior IT leaders who see themselves sticking with their company for at least three to five more years. "It's an exciting time," he said. "The company is growing quickly, which keeps everyone challenged and on their toes." Salama plans on growing with the company, and anticipates his job will transition to a higher authority role in the next few years.
For the CIO at a regional IT consulting practice in the Northeast who requested anonymity, the chance to grow along with a burgeoning business also factors into his current job satisfaction. He's
part of the leadership team
at the practice, and right now that's right where he wants to be. After spending years in unhappy work situations in order to develop his technical and
leadership skills
, he has earned the luxury of taking only the jobs he wants.
"I have a seat at the table and a voice in the overall direction the company is moving. … I am quite content where I am," he said.
"My job satisfaction includes knowing that my own employees feel they've achieved their own definition of job satisfaction and that I've helped them in achieving that," Salama said.
For MCNA Dental's Salama, job satisfaction boils down to a handful of simple yet important things, like knowing he's making a difference in his company and for their clients, feeling eager to come to work even when it stretches beyond the normal 9 to 5 hours, and being recognized for accomplishments. And it also hinges on the job satisfaction of those who work for him.
Optimism inspired by growth and innovation
It's easier to feel good about work when the vibe is upbeat. Among the senior IT executives in our survey, 78% said the mood in their organization was either optimistic (39%) or neutral (38%). Two of the top reasons cited for the mostly positive outlook were the encouragement of innovation (61%) and business growth (34%). That correlation is key, according to Salama.
As the company grows, his team is working on "exciting" projects and has the freedom to stay on the "bleeding edge," he said.
"We're tasked to continuously innovate our technologies and be the best of the best in what we do," Salama said. This requires a lot of hard work, but results in a great deal of satisfaction. "Our drive for
innovation keeps everyone motivated
, challenged and engaged at all times."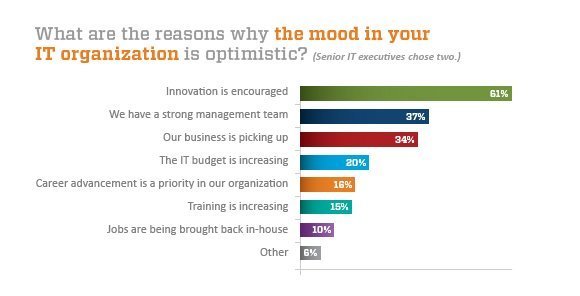 Sam Cattle, now practice manager at Cincinnati-based Mainstream Security, agreed. "To excel at a job, innovation and growth are key," he said. Cattle recently left a job where many of the factors cited by IT leaders in the survey as being crucial to a positive outlook were waning or lacking entirely. There were layoffs, unresolved customer challenges and no growth. His new IT organization is different.
"The care and feeding elements -- budget, training, effective management, career management and advancement -- are critical, from an employee's point of view," Cattle said. He loves what he's doing and would be happy to continue working for Mainstream Security into the foreseeable future.
"Nothing is driving me to look," he said. "I'm bullish on my new company."